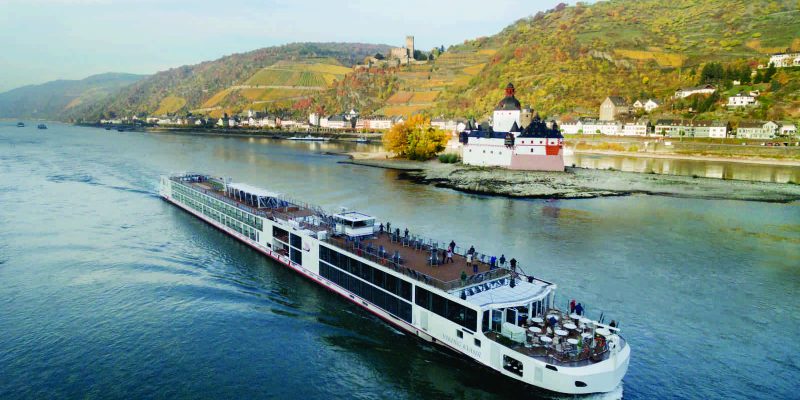 History
Viking was founded in 1997 with the purchase of four ships in Russia. In 2000, the company purchased Europe's KD River Cruises in order to grow its fleet, to leverage 40 years of river cruising experience and to acquire rights to prime docking locations in key European cities.
The company expanded into the American market in 2000, establishing US headquarters in Los Angeles, California. Through rapid expansion, the company has grown to be The World's Leading River Cruise Line, with double-digit growth in recent years. And with the launch of its ocean fleet in 2015, the company has also become the leader in small ship ocean cruising.
With operational headquarters in Basel, Switzerland, Viking provides destination-focused itineraries designed for experienced travelers who have an interest in geography, culture and history. Each journey includes a shore excursion in every port, and an exclusive Viking Culture Curriculum program that provides deep immersion in the destination through performances of music and art, cooking demonstrations, informative port talks and carefully selected guest lecturers.
The company currently operates a fleet of more than 60 vessels, state-of-the-art ships that have received numerous accolades since their launch from industry experts and travelers alike. Viking was voted the #1 River Cruise Line by Condé Nast Traveler in their 2017 Readers' Choice Awards, and for the third year in a row, has been named the #1 Ocean Cruise Line* by Travel + Leisure readers in the World's Best Awards 2018.
River Ships and Itineraries
Sailing Europe's storied rivers, the award-winning Viking Longships offer a variety of stateroom categories and true two-room suites with full-size verandas. Onboard amenities include a restaurant, bar and lounge, library and expansive sun deck. The ships feature al fresco dining on the Aquavit Terrace, an elegant Scandinavian design and "green" features, such as solar panels, an onboard organic herb garden and energy-efficient hybrid engines for a remarkably smooth ride.
River cruises range from 8 to 23 days, with itineraries featuring Europe's Rhine, Main, Danube, Seine, Rhône, Douro, Moselle, Elbe, Dordogne, Garonne and Gironde Rivers; Russia's Volga, Neva and Svir; Ukraine's Dnieper; Egypt's Nile; China's Yangtze; and Southeast Asia's Mekong.
Why Celebration Escapes & Viking River Cruises
There are literally hundreds of Ocean and River Cruise Lines out there, all saying the same things. After 25 years in the travel industry, we have experienced most of these lines personally. Our team has been diligent in finding only the best cruise lines for our partnerships. Trust Us - There are definitely differences in cruise lines and just because they go to the same destinations, the way in which each line manages their journeys can be very different.
Most of the River Cruise Lines offer something that is special or unique with their journeys. Just like every client is unique; looking for various types of travel experiences, with different budgets, styles of travel, and options for experiences. Our Travel Consultants are familiar with all of the lines and what each one has to offer and their specialties. Whatever your desires, we can match them with the perfect river cruise line for you.
Schedule your complimentary Creative Planning Session with a Celebration Escapes Travel Consultant today. Let us help you navigate the vast number of river cruise lines , and assist you with finding exactly the best itinerary for you. We can save you hours of time on researching everything there is out there...We're specialists and we have the answers you are looking for, in order to  choose the perfect package for you.
Tell us about your Individual and Group Milestone Celebration Dreams… We'll Transform those Dreams into Spectacular Event Memories.

The River Cruise Lines that we are showcasing in this website are truly special lines. 
Celebration Escapes is a Milestone Celebrations Company, Specializing in Luxury Milestone Celebration Journeys. We have created special partnerships with a few of the very best River Cruise Lines throughout the world, who have the most to offer to our very discerning clients seeking unique, inspired luxury journeys for their special milestone celebrations.  To that end, we have partnered with three River Cruise Lines that deliver the ultimate journeys for these clients. On the following pages we focus on these partner river cruise lines and offer you the details to find the one that will make all of your Milestone Dreams come true.
Celebration Escapes is dedicated to delivering to our clients, the absolute best in itineraries. The suppliers we select as Partners are critical to us keeping our commitment to that effort. and you! 
Our Travel Consultants are certified Cruise Line specialists for our partner cruise lines. That means we know these lines, their ships, their itineraries, their staff, and all of the incredible amenities and service they provide to you; our clients.  It's a WIN-WIN-WIN - Everyone's always happy; Celebration Escapes, the Partner Cruise Lines, and YOU; our very important clients.
Tell us about your Individual and Group Milestone Celebration Dreams… We'll Transform those Dreams into Spectacular Event Memories.