RIVER CRUISES
Award-winning Uniworld—the world's ONLY authentic boutique cruise line™—offers itineraries in spectacular destinations throughout Europe, Russia, Egypt, and Asia. The company's European fleet features luxurious ships with an average capacity of 130 guests, the highest staff-to-guest ratio in the river cruise industry, enticing shore excursions, world-class gourmet cuisine, impeccable hospitality, and numerous other all-inclusive benefits.
The Highest Standards in Luxury River Cruising
In 2004, Uniworld was acquired by The Travel Corporation (TTC), a highly successful international travel group founded by Stanley Tollman. TTC has more than 30 top brands, including Trafalgar, Insight Vacations, and Contiki, as well as Red Carnation Hotels, a renowned collection of four- and five-star luxury properties.
TTC has made major investments in Uniworld's ships, crew, and staff, with an eye towards providing guests with all the elements of an unforgettable Six-Star Experience: Expertise; Service; Luxurious Ships, Uniquely Designed; Culinary; Choice; and Truly All-Inclusive. Combining the tour planning and hotel management expertise of TTC's sister companies with Uniworld's decades of superior nautical experience has created an entirely new category of luxury river cruising.
The Boutique Experience, On-board & Onshore
The renowned Red Carnation Hotel Collection was founded in the early 1980s by Beatrice Tollman, who has many years of experience as a chef, cookbook author, and hotelier in South Africa, Europe, and the US. The family-run business now spans four generations—including her husband Stanley and three children—and owns and operates 17 boutique properties in five countries. Mrs. Tollman was named Hotelier of the Year at the European Hospitality Awards in 2012.
Boutique hotels are known for their destination-specific interior décor, gracious service, and carefully selected amenities, all of which provide an intimate, elegant, and relaxed experience. Similarly, Uniworld's boutique river cruises allow guests to travel from one exciting destination to the next aboard a stylish floating hotel with inviting lounges, cosy libraries, panoramic restaurants, sumptuous cuisine, exquisite antiques and original art, and luxurious riverview staterooms and suites. Meticulous attention to detail is readily apparent on every company-owned ship, including Uniworld's four stunning Super Ships—the S.S. Antoinette, S.S. Catherine, S.S. Maria Theresa, and the S.S. Joie de Vivre (debuting 2017).
Gracious and Attentive Service
In partnership with its sister company, Red Carnation Hotels, Uniworld takes pride in its long-lasting relationships with guests, for whom there is "No request too large, no detail too small." Uniworld employs a professionally trained, dedicated, English-speaking staff, so guests never have to worry about communication.
Note: Beverage policy varies in Russia, Asia, India, and Egypt.
Each exquisitely appointed Uniworld river cruise ship is a work of art designed to be as unique as our guests and as inspiring as the destinations we visit.
Unique
Thanks to decades of experience in luxury travel, including with our sister company, Red Carnation Hotels, Uniworld sets the standard for excellence in hospitality, culinary and nautical practices in luxury river cruising.
A CREATIVE HISTORY OF HOSPITALITY

 led to one picture-perfect cruise collection.
Boutique hospitality, unmatched service and a dedication to going above and beyond for our guests are deep-rooted in our DNA. Uniworld Boutique River Cruise Collection is modeled after our sister company, the five-star Red Carnation Hotel Collection, and we've been able to tap into their more than 100 years of experience and bring their knowledge to the rivers.
One thing they've taught us? Luxury travel is best when it's all in the family, which is why we employ our own full-time staff onboard and don't outsource any elements of your cruise to third parties. When you travel with Uniworld, you know exactly what you'll get, each and every time.
EVERY SHIP IS A MUSEUM ON WATER.
Art is the journey of a free soul, so come on and let your soul free onboard our boutique one-of-a-kind ships.
Our award-winning ships are inspired by the beauty, colours and intricate detail of the destinations you'll visit on your voyage. Take the S.S. Antoinette, fashioned after Marie Antoinette's 18th-century Chateau de Versailles; the S.S. Maria Theresa, which some have described as a floating baroque Viennese palace; or the brand-new S.S. Joie de Vivre, inspired by 20th-century Paris. Your ship is a destination in and of itself, with hidden elements and artful refinements waiting to be explored in every room.
Not only is each Uniworld ship unique, complete with handcrafted furniture commissioned exclusively for Uniworld, carefully curated original artwork and antiques, and a bespoke design scheme, but each room onboard your ship is as well.
Relax in the art deco–inspired lounge on the River Queen—one of the only ships on the rivers of Europe with a working fireplace. Then relax in your custom stateroom and fall into a blissful sleep on your Savoir® of England bed.
EACH SHIP IS A WORK OF ART ON WATER, JUST AS EACH DESTINATION YOU'LL
VISIT IS A WORK OF ART ON LAND.
IT'S YOUR WORLD, AND IT'S VERY IMPORTANT TO US
When it comes to service, we know the tiniest of details sometimes have the biggest impact. Getting ready for a day exploring Frankfurt is a shimmer brighter when your butler has already pressed your pants exactly how you like. Breakfast in bed becomes even more relaxing when your waiter serves you coffee already prepared to your liking—two sugars and a splash of soy milk. And a late-night cocktail is never more enjoyable than when the bartender sourced your favorite Bordeaux wine from a store in town while you were exploring Saint-Émilion's astonishing 12th-century Monolithic Church.
We actually have a name for the little niceties that take your cruise from great to grand—Tiny Noticeable Touches (or TNTs for short). Our commitment to TNTs sets the stage for our service philosophy. By getting to know you, your interests, your preferences and your style, we're able to deliver an experience that is just the way you'd like it to be.
"NO REQUEST TOO LARGE, NO DETAIL TOO SMALL."
We don't just say it. We really mean it, as evidenced by the many repeat guests who choose Uniworld time and time again.
THE TNT MODEL
The most highly trained, dedicated and tenured staff of all river cruise lines.
Butlers trained to the same standards of excellence required by Buckingham Palace.
Act with honesty, speak with integrity and treat our guests like royalty.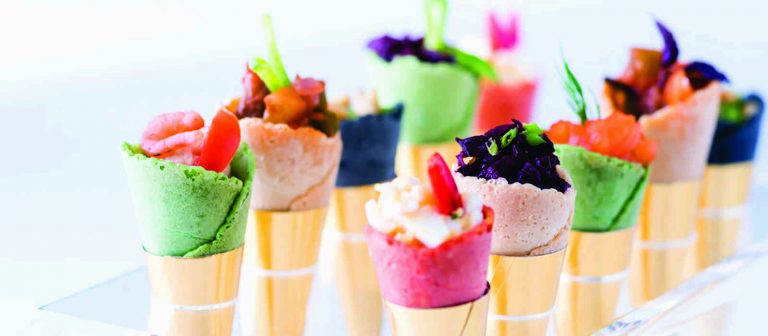 Culinary
EVERY MEAL IS A MASTERPIECE
Our commitment to culinary excellence is evident every time you enjoy a homemade croissant delivered to your room by your butler, or when you pair your freshly caught seafood dinner with a wine that was bottled just miles down the road.
When dining onboard, you'll be treated to world-class cuisine made from fresh ingredients, locally sourced from the destinations you visit. Our farm-to-table approach takes our chefs to regional farms, local markets and artisanal producers to ensure that every meal is an adventure in and of itself. We treat cooking as an art form—a very delicious art form.
Our focus on serving memorable meals comes directly from world-renowned Mrs. Beatrice Tollman—founder of our sister Red Carnation Hotel Collection, author of the highly acclaimed cookbook A Life in Food and the inspiration behind the culinary philosophy onboard. Mrs. Tollman's personal recipes are guest favorites on our dining menus. Pro Tip:Don't order a salad without sampling her favorite dressing.
THE CHOICE IS YOURS
Our included excursions are curated exclusively for Uniworld guests, and are your gateway to immersing yourself in the authentic culture, sights and cuisine of the places you'll visit.
Choose an active excursion, a culturally enriching one or a "Gentle Walking" tour that lets you explore at a more leisurely pace. We feature more than 80 excursions that are completely unique to Uniworld guests. Nothing onboard is cookie-cutter, so your time onshore shouldn't be either. These included excursions, as well as our Exclusive Experiences, feature several options throughout the entire day, so you can adventure onwards exactly how you'd like.
Let's Go: Put on your walking shoes or your favorite bike shorts and head out on a hiking or biking excursion. Our Nordic walking poles and custom Uniworld bicycles are available for you to use onshore. With our compliments, of course.
Do as the Locals Do: Experience life just as a local would with these specialty excursions designed to give you an authentic inside look into your destination. With our VizEat partnership, you can get a taste of the city and share a meal in the home of a local host.
Village Day: Discover some of the prettiest and most charming towns and cities on these intimate adventures, offering an in-depth look into quaint destinations and the local people who bring them to life.
EXCLUSIVE EXPERIENCES
In keeping with the unique-to-Uniworld theme, our included Exclusive Experiences offer once-in-a-lifetime opportunities that will enrich, excite and have you reminiscing about your vacation for years to come. In Vienna during "Morning with the Masters," you'll be treated to a private art tour of the Vienna Art History Museum, showcasing the Habsburgs' imperial treasures as well as magnificent works of art by some of the world's greatest artists. Swap stories with a real-life Austrian princess in her 13th-century castle. Or venture to a Provence truffle farm in search of the "black diamond." Unforgettable experiences offered by no other river cruise line.
THE WORLD'S BEEN GOOD TO US.
And we'd like to return the favor.
Mother Nature has provided us with a beautiful playground, and supporting the places we visit and those who call our destinations home is essential to ensuring the future of travel is equally bright. Almost a decade ago, we introduced a clean water programme to preserve our rivers and waterways, which many in the industry have since followed. With our TreadRight Foundation partnership, we are currently working to help save wildlife and create economic opportunities for women as part of the Aid for Artisans project. Travel has provided us the chance to give back and lift up others, and we strive to do so whenever possible.
As part of our passion for sustainable tourism, we focus on making a positive impact through environmental, social and economic responsibility. We partner with Just a Drop to help provide clean drinking water to those who would otherwise be without, donate many items and materials that are no longer in use on our ships, develop programs to preserve local culture, and aim to support local businesses in the countries we visit.
TREADRIGHT FOUNDATION
Founded in 2008 by Uniworld's parent company, The Travel Corporation, the TreadRight Foundation encourages sustainable tourism and has completed more than 40 projects that have benefited the environment as well as local culture and heritage. In 2015, TreadRight named their first ambassador, leading environmentalist and explorer Céline Cousteau. Céline has traveled the world while working to preserve marine life as well as indigenous tribes in the Amazon.
ME TO WE
Our new partnership with ME to WE combines authentic volunteering with sightseeing in India, so you can delve into the local culture while helping to make a difference in this fascinating, diverse and complex area of the world. This 5-day extension to our "India's Golden Triangle & the Sacred Ganges" cruise and tour will place you in the heart of Udaipur to work alongside local residents on a development project.
T

ake a look at the Sample Itineraries in the Drop Down Menus  for Uniworld River Cruise Itineraries and Ideal Celebration Journeys for your next Milestone Celebration Group Journey.
Want something handcrafted just for your group?

That's perfect! In your creative Planning Session tell us all about what you are looking for in the destinations and we will design a pre and post itinerary that will transform your Dreams into Spectacular Memories. 
Then;  click the button to schedule your Creative Planning Session 
or Give us a call to chat about your ideas 678-500-9548.
Tell us about your Milestone Celebration Dreams… We'll Transform those Dreams into Spectacular Memories.