Star Pride - All Suites Yacht
HARDLY A CRUISE FOR EVERYONE, BUT LIKELY THE CRUISE FOR YOU …
Banish cliché, toss aside regimen, steer clear of stuffy.
PERFECTLY SIZED: The Best of Small Ship Sailing
Windstar's 148 to 310-guest small ships and personalized approach bring you closer to each destination and every port, so you can see the world from new perspectives. Share intimate moments away from the crowds, and immerse yourself in local, exotic cultures, all on a ship where surprise and delight are constant companions.
Star Pride
All Suite Yacht
With only 212 guests, a Star Pride cruise will make you feel like you're on board your own private yacht almost as soon as you step aboard. The sitting area of your spacious, newly refurbished suite gives you an expansive ocean view — making it a welcome retreat. When you're ready to make an appearance, the lounges, club, casino, screening room, and library are waiting to be explored. Take some "you" time in the tranquil WindSpa . . . enjoy a dip in the pool . . . work off that decadent dessert in the Fitness Center . . . and, of course, you are always welcome to visit the Bridge to examine navigation charts with the Captain.
Star Pride is large enough to pamper and entertain you, yet small enough to tuck into delightful tiny harbors and hidden coves that others can't reach.
Star Pride Information
CAPACITY: 212 guests

SUITES: 106 suites, all outside with ocean views

OWNER'S SUITES: 2, with private verandas

CLASSIC SUITES: 4, with private verandas

BALCONY SUITES: 36, with French-style balconies

OCEAN VIEW SUITES: 64, with picture windows

DECKS: 6 guest decks
All Accommodations Feature:
Queen Size Bed with Luxurious Linens

Waffle Weave Robe and Slippers

Flat Screen TV with DVD player

Fully-Stocked Mini Bar/Refrigerator

Safe

Direct Dial Phone

L'Occitane Bath Amenities

Wi-Fi (internet cards can be purchased at reception)

Fresh Flowers

Fresh Fruit

Granite vanity with magnifying mirror and chair

Mirrored closet with ample drawer space

Bathroom with granite countertop and shower

Hair Dryers and 110/220 outlets
Every Cruise Includes:
All meals in all venues at all times, including room service menu available 24 hours

All non-alcoholic beverages, including cappuccino, espresso, and other specialty non-alcoholic drinks

Welcome cocktails at reception

All onboard entertainment

Unlimited use of Fitness Center

Unlimited use of all water sports equipment

Informative nightly port talks and destination briefings
On-board Spaces
Reception

Veranda
Star Bar

AmphorA Restaurant 

Compass Rose

Candles 

Compass Rose

The Lounge

Casino

Watersports Platform

Pool

Two Whirlpools

Computer Center

Fitness Center

WindSpa

WindSpa Yacht Club

The Bridge (with Windstar's Open Bridge Policy)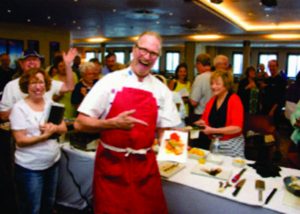 ABOARD EVERY WINDSTAR CRUISE YOU WILL ENJOY
Champagne welcome reception

Signature Sail Away to Vangelis' "1492 Conquest of Paradise"

Windstar's Signature Onboard Barbecue and the beloved crew show*

Local performances on board**

Learning how to sail with the Captain or officers on our Open Bridge

Ocean views from all beautifully appointed staterooms or suites

Cooking demonstrations powered by the James Beard Foundation and recipes by James Beard Foundation chefs

All meals, in all venues, including 24-hour room service

All non-alcoholic beverages, including specialty tea and coffee drinks

Market tours with the chef to select seasonal local ingredients for upcoming meals**
Watersports Platform, including all watersports equipment featuring complimentary kayaks, paddleboards, water trampoline and more*
* Dependent on port and weather conditions. Watersports equipment is not available in Alaska. Only Signature Expeditions will operate from the Watersports Platform when in Alaska.
** In most regions.
We've cruised for many years but cruising with Celebration Escapes & Windstar Cruises  was a totally different experience. Everything was Luxury all the way but very casual and understated. It's great for cruising enthusiasts to have several different cruising options now. 
~ Marcel & Joyce
We loved how Celebration Escapes planned experiences in the ports designed just for us. Our group felt like royalty on this journey and we all loved every minute of it.
~ Bruce & Audrey
Thank you Celebration Escapes for making this journey a milestone memory. We wanted to sail on an extraordinary ship to a destination we wanted to experience for a long time. It was a Dream we had...for our 15 year Anniversary Pamala delivered that Dream and really did transform it into one of our most beautiful memories.
~ Christine & Marvin
Ready to learn more?
Give Us A Call Or Schedule A Free Planning Session 678-500-9548